Amsterdam is famous for biking and we want to give everyone the opportunity to explore the city by bike. Move through the city like the locals do!
We offer the following adapted bikes:
Fun2Go bike - side by side
This bike has two seats. One person is obliged to cycle and the other can just sit and enjoy Amsterdam or cycle along. This bikes allows people with less mobility to see the city from a bike, but is also suitable for people that are blind or have a visual impairment and for people that are deaf or hard of hearing.
O-Pair bike - seat in front
This wheelchair bike is a double bike with a comfortable suspension chair in front of the steering wheel. The big advantage is that the front is easily disconnected from the bicycle part, so it can be used as a wheelchair on location. Several 'tubs' are placed on the front to meet the specific requirements of the users. With the help of optional power assistance, cycling will be even easier on this modern designed wheelchair bike.
VeloPlus electric bike - wheelchair platform
This transporter bike is especially suited for wheelchair users who remain seated in their wheelchairs while riding. Convenient tilt ramp allows the user to easily reverse onto the wheelchair bike. With easy and safe locking the wheelchair transporter is quickly ready to use. The special construction ensures stable handling and comfortable cycling. A wide variety of wheelchairs fit onto the Velo Plus, making this wheelchair bike well suited for homes or institutions.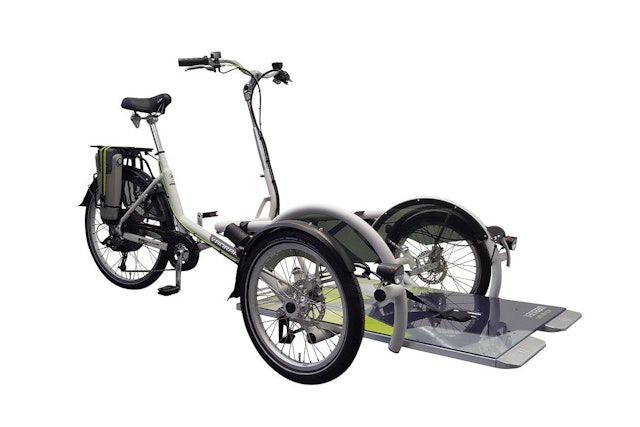 Tricycle
This bike for adults has 2 wheels in the front and one on the back. For people that have difficulties with balance, this bike is perfect. It has a low frame to make it easier to get on the bike.
Handbike
The handbike has a seat low to the ground and is moved by hand.
The above picture does not represent the exact hand bike available.
Firefly
The Firefly is an electric handbike that can be attached to your wheelchair. Go twice as fast and twice as far! You can rent the Firefly with a wheelchair or you can attach the Firefly to your own wheelchair. The mechanics will help you attach it to your chair.
Tandem bike
Want to share the cycling adventure? Rent a tandem!
Regular bikes & accessoires
Of course we also rent different types of regular bikes. For your kids there are childrens bikes and bicycle child seats available.
Photo sources: Van Raam and Starbikes Rental.